"
But Mary kept all these things, and pondered them in her heart
."
This verse, Luke 2:19, has often struck me, as does a nearly identical verse at Luke 2:51. Mary, the mother of Jesus, treasured the memories of Jesus' birth, the angels, the visits of the shepherds, the visits of the wise men, and so many other special events connected to her son Jesus.
I don't know about you, but often I ponder it myself, wondering how Mary felt and thought about it all. Do you ever wonder about the parts of Jesus' life that aren't mentioned in the Bible? I certainly do. What was he like as a boy? What was the relationship like between him and his parents and siblings? Rich Mullins mused upon this in his song "Boy Like Me/ Man Like You:"
And You was a boy like I was once
But was You a boy like me . . .
Well, did You wrestle with a dog and lick his nose?
Did You play beneath the spray of a water hose?
Did You ever make angels in the winter snow?
And did they tell You stories 'bout the saints of old?
Stories about their faith?
They say stories like that make a boy grow bold
Stories like that make a man walk straight
Laura Davis has pondered these things in her heart as well, and one result of her meditations is the historical fiction
Come To Me
, Mary's story as told to Luke and some people in a ship. Historical fiction? Kind of, but with a whole lot of actual Scripture in it.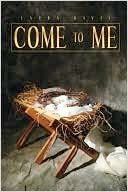 It was a tricky undertaking, really, for Laura Davis to write a story fleshing out the story of Mary and Jesus, tricky because she needed to avoid anything that might be contrary to the information we have in the Bible. There are those who object to any imagination about the life of Jesus, fearing blasphemy, I guess. I personally thought a novel had to stay true to what we know from scripture.
The good news is that Laura Davis has masterfully combined the truth that we know with imagined family and personal life. In the process, Jesus comes to life as a truly human person as well as divine. We know he was a loving son devoted to his mother, and Laura builds that realtionship into the story. She also includes the backstory of Joseph and Mary, their parents, and how the situation might have played out when she became pregnant. Until I read this, I never really thought about Mary's parents.
It was obvious that Mrs. Davis did a great deal of research in writing this tale; it is filled with details of everyday life at that time: food, marriage, friends, traditions and little cultural tidbits that might enlighten readers to just how Jesus grew up, how Mary lived. These details just enhance what we know from scripture. In fact, I believe this would be a good book for those who
don't
know about Jesus but are not ready or willing to read the Bible itself. The language is at a level that even middle grade students can read easily.
One thing that readers must remember,though, is that this
is
fiction, so they may find details that they don't agree with. For example, the wise men are given the names that are in traditional stories, like Melchior. Of course, we don't really know their names or even how many there were. But that doesn't change what is truly important.
Overall, I recommend
Come To Me
very highly. It would be a great gift for someone who is struggling to understand the story of Jesus, wholly human yet wholly God, good for young people, and great reading for anyone who loves the Lord. If you are anything like me, you will find that it makes you "ponder" these things yourself, and spend a little time pouring over the Biblical accounts of Jesus' life, death, and resurrection.
You can visit Laura Davis at her website:
Author Laura Davis
Here are the main bloggers that will be posting this week, listed by the date their articles will appear. (Don't forget to leave comments if you want to be entered in the drawing for the book. I hope you might make comments pertinent to what you have read in the blogs.)
Check out these member blogs Sept. 7-13 for more info.


| Sunday | Monday | Tuesday | Wednesday | Thursday | Friday | Saturday |
| --- | --- | --- | --- | --- | --- | --- |
| | | | | | | |
| | | | | | | |
Three other blogs to add to these:
Queen of Convolution
,
The Time Mistress
, and
Virtual Tour D'Net
Come To Me
by Laura Davis
ISBN 978-1-4357-0556-2
Available through
Barnesandnoble.com
,
Lulu.com
, Borders, and
Amazon.com
.