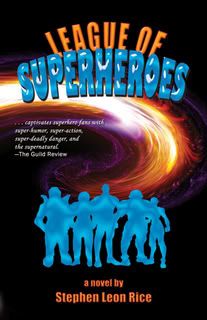 Today is the last day for the
CFRB's
celebration of Geek Week. In other words, the last of the reviews are up on
League of Superheroes
by Stephen L. Rice. The reviews have been enthusiastic; I believe Mr. Rice's tale has struck a chord with many of us. I will be giving away one copy of
League of Superheroes
, choosing a name on Monday, the 15th, at 10:00PM EST. The names will be taken from the comments left on ALL the blogs in the CFRB tour for the novel. This includes several great blogs that
Mr. Rice
has written himself giving more of the back story. If you don't read the reviews, I urge you to at least read Stephen Rice's comments. Some are pretty funny; some should help you see into the series he is writing.
Each comment counts as one entry, so the more blogs you visit, the more chances you have of winning! If you want this for a Christmas gift, it should reach you in time.
Visit Stephen Rice's blog:
Back to the Mountains
and his League of Superheroes Series wiki at
ansric.pbwiki.com
.
Product Details:
List Price: $ 9.95
Paperback: 200 pages
Publisher: Writers Cafe Press, The (October 1, 2008)
Language: English
ISBN-10: 193428405X
ISBN-13: 978-1934284056
League of Superheroes
is available through the publisher,
The Writer's Café Press
(can be autographed), Barnes and Noble, and Amazon.com.
Check out these other member blogs this week for more info.