So you want to know about dragon writers?
Editors:
Michele Acker: Michele writes articles and short stories for various online 'zines and newsletters. Her stories have appeared in the anthologies A Time To..., the Stygian Soul, Chimeraworld #2, and F/SF. She's a contributing author for The Complete Guild to Writing Fantasy.
Kirk Dougal: Kirk owns and operates his own business consulting firm by day and struggles mightily to help raise his twin two-year-old daughters by night. During the scant few minutes of free time he can grab each day, he is an avid reader and writer of science fiction and fantasy.
Contributors:
(Not a Complete List)
Richard Bray: Richard is a 26-year-old editor at a newspaper just outside Houston, Texas. He has been published alongside Hugo Award-winning author Neil Gaiman in the anthology "Fantasy Readers Wanted – Apply Within," and fantasy legend Piers Anthony praised his short story "Five Minutes Longer" as one of his favorites in the fantasy anthology "Enchanted Realms." Bray's short story "Tell Me, Lover, Are You Lonely?" will appear later this year in "Strange Stories of Sand and Sea," published by Fine Tooth Press. He runs a 2,100-member online fantasy writing forum at http://groups.yahoo.com/group/Fantasy_Writing.
Eric Diehl: Eric likes to make stuff. Tangible things—those that you might hold in your hand, and ephemeral things—those that elude form. He's built furniture and guitars, he's screen-printed t-shirts, and he's written software and designed websites. He harbors a life-long passion for motorcycling—occasionally teaching a safety class to newbies both young and old—and he persists in being confounded by the acoustic guitar. But it remains that most powerful and elusive of creations that he stands most in awe of—the story. Ink on paper, black on white, a collection of simple syllables woven into an infinitely complex journey. He's written travel articles and reviews in Rider, RV Companion (since demised), and Adventure Motorcycle magazines. Also a short in the Florida Horror anthology by Carnifex Press. A SFF novel is in final editing stages, and several other shorts are making the rounds. Learn more at www.ericdiehl.com.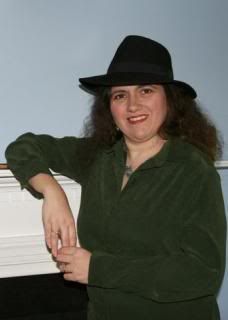 Karina Fabian: After being a straight-A student, Karina now cultivates Fs: Family, Faith, Fiction and Fun. From Nuns in Space to a down-and out Faerie dragon working off a geas by St. George, her work takes quirky twists that keep her amused--and others, too. Winner of the EPPIE award for best sci-fi and the Mensa Owl for best fiction, she writes stories and novels about Vern, the dragon detective. (learn more at www.dragoneyepi.net.) In addition to juggling the stories from at least three different universes, Karina is President of the Catholic Writers' Guild, owner of Catholic Writers Online, and teaches writing seminars on-line. She and her husband Rob are also the skillful editors of Infinite God Infinite Space and Leaps of Faith (also being toured in November, just released). For more about Karina and her worlds, go to www.fabianspace.com.
Tina Morgan: At the age of four, Tina's mother recorded her telling a story of an unfortunate princess. Her love of storytelling has not diminished with time and Tina takes great pleasure in creating fantasy worlds and life-like characters. The managing editor for Fiction Factor (http://www.fictionfactor.com) and editor-in-chief of The Fractured Publisher (http://www.fracturedpublisher.com), Tina Morgan enjoys researching and learning more about the art and business of writing. She's a contributing author to The Complete Guide to Writing Fantasy, and The Companion Guilde to Writing Fantasy currently available with Dragon Moon Press. She's also contributed to The Complete Guide to Writing Science Fitction which features chapters from Piers Anthony and Orson Scott Card.
Bob Nailor: Bob is a retired government worker who was on the cutting edge of technology as a Systems Manager but now enjoys being an end user. Having raised four sons he enjoys spoiling his six grandchildren and weaving a tale by the campfire to excite, thrill, scare or fascinate them while on travel enjoying the sights of our great country. He still remembers his first critique, 3rd grade, of his poem, Angels and Volcanoes. His first rejection was from Children's Highlights while a sophomore in high school. Today he is published at many websites and is a contributing author to Companion Guide to Writing Fantasy and The Complete Guide to Writing Science Fiction.
He was a columnist for a small, local newspaper when he lived outside of Washington, DC and was the poetry editor and production manager for The Emporium Gazette (www.emporiumgazette.com), an online writer's ezine. He currently is the coordinator for the Northwest Ohio Writers' Conference (www.nwowc.com) which keeps him quite busy.

Kim Richards: Born and raised in the infamous Roswell, New Mexico, Kim now resides in Northern California where she writes full time. Her preferred genres are horror, science fiction, fantasy and erotica, though she has had a children's book published and non-fiction articles as well. When her fingers aren't busy tapping on the computer keyboard, she enjoys reading and movies in her preferred genres. She is a costumer and regularly participates in a Live Action Role Play group called Amtgard (for over 18 years). Her sons are grown men now, of whom she is extremely proud.
Besides editing for Eternal Press, she also edits reviews for MyShelf book reviews and produces the monthly newsletter for the women's online horror community, Pretty-Scary, along with a quarterly newsletter for her local neighborhood association (circulation approx: 3000 members). She also moderates chats for The Writer's Chatroom online. All this is supervised by a Tonkinese cat named Shemay. http://www.kim-richards.com
Sarah R. Suleski: Sarah is a 23-year-old library assistant, which she views as very fitting work for an aspiring author, if not entirely practical for those who enjoy having money. She has lived all her life in Wisconsin, USA, yet exactly 86% of that life has been spent entirely inside her own head. If you would like to know more about this exciting person, you may read more about her personal life than you are ever sure to care for at her blog, http://sarahlitarose.livejournal.com. Also, she is currently the proud owner of two websites where you can read many of her stories: the aptly named http://srsuleski.com and the more curiously named Iridescent Rhinoceri (http://irhinoceri.livejournal.com), for she believes in saturating the internet with her undeniably brilliant storytelling and fair to middling prose. Firestorm of Dragons marks her first time in print, not counting childhood endeavors with friends and their word processors. She is very excited about this, and plans to quite possibly buy more copies of the anthology than anyone, once she discovers the gold that is sure to be hidden somewhere in the basement.

John Teehan: John is a writer, artist, and musician living in Providence Rhode Island. His short fiction appears in a variety of anthologies including Men Writing Science Fiction As Women (DAW) and Low Ports (Meisha Merlin). He was a contributing author for The Complete Guide To Writing Fantasy (Dragonmoon Press), and has published poetry and non-fiction in several SpecFic markets.
He is the current Production Manager and Art Director for The SFWA Bulletin and has also provided layout and cover art for over fifty books including Forgotten Gems From The Twilight Zone Vols 1 and 2, Welcome, Foolish Mortals...The Life and Voices of Paul Frees, The Twilight Zone Scripts of Jerry Sohl, and William Nolan's Have You Seen the Wind?.
John plays the Irish tenor banjo, bodhran, 5-string banjo, mandolin, and guitar.
He's a huge movie buff, goes fishing before dawn, and dabbles in watercolor and cartooning on warm summer evenings. He was recently married to a wonderful woman who puts up with all of this.