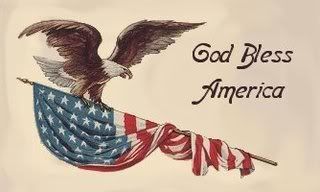 I heard one of my favorite patriotic songs today, and for once, they included the last verse. It's "My Country, 'Tis of Thee." You all know the first verse, I'm sure. But the last verse is one I'm afraid some people today would like to forget. Not me.
"Our father's God, to Thee,
Author of liberty,
To Thee we sing;
Long may our land be bright
With freedoms holy light;
Protect us by Thy might,
Great God, our King."