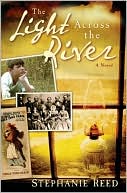 The Light Across the River

by Stephanie Reed



This month, CFRB presents The Light Across the River by Stephanie Reed.



About the Book:
In this powerful sequel to Across the Wide River, it's 1837 and the Rankin home is still a beacon of freedom on the Underground Railroad. Johnny, the seventh of thirteen children in the Rankin family, is growing up quickly and in 1837 is eager to take on the same responsibilities as the rest of his family. But Johnny's father and his brother Lowry think Johnny is too young and too hotheaded to help with something as important and secretive as the Underground Railroad. Johnny understands the need for secrecy, but sometimes the secret is just too good to keep to himself!
Unexpectedly, Johnny finds himself in a position to help a woman named Eliza escape to the North. Will he be able to help her to freedom, or will he let the wrong secret slip out at the wrong time? This engaging novel for young adults offers a further glimpse into a dark period of America's past, and profiles the courageous and godly people who helped bring about its end.




About the Author:
During her childhood, Stephanie Reed's family would often pass through Ripley on their way to her grandparents' home. The signs she read there about the Rankin house were what prompted her to write Across the Wide River and The Light Across the River. After working for nearly a decade with the Dayton Metro Library, Stephanie is now a volunteer spotter for the National Weather Service. She lives with her husband and two children in Dublin, Ohio.


I'll be posting reviews later this week on both

The Light Across the River

and

Across the Wide River

later on this week.