If you read a previous blog of mine introducing Stephen L. Rice's new book,
League of Superheroes
, you'll see a silly-looking superhero cat. Well, my brain has been stuck in silly mode ever since I saw that photo (by the way, I can not imagine any self-respecting cat letting a human dress it that way). So my wandering mind daydreamed a bit: what if the League of Superheroes had superpets to aid them their crimefighting? After all, Superman had
Krypto the superdog
, who even had his own comic book for a while. Wonder Woman had her horse, at one time there was a
Legion of Superpets
, and Aquaman had . . . fish.
This lured me into further daydreaming about furry and scaly friends for the League.
First for Tom/Darklight, who turns invisible
: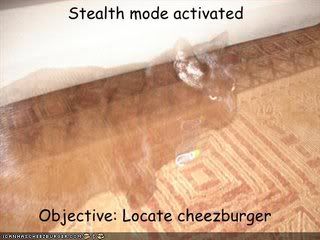 Next, for Charlie/Micromega, who can shrink and increase in size, what about the noble Reepicheep?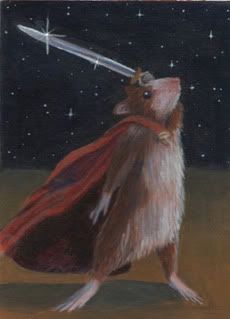 Rod Davies/Titan is the super-strong but klutzy one who kind of resembles a flying tank in his suit. This weird Mary River turle with a green Mohawk and spikes (teenage mutant punk turtle?) might be a good sidekick for him:
It was hard to come up with one to match Allen/Tachyon. He can speed up or slow time, in a manner of speaking, so I guess that makes him a bit like the Flash in action. Perhaps a flying Batdog would be abe to keep up with Tachyon
.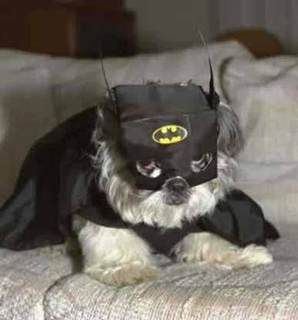 And finally, there's Clarice, Allen's tag-along annoying little sister, the one who befriended Genie in the first place. Since she's a little girl still, I think my original supercat candidate would make a good match sidekick for her.

Hope you had a giggle or two. I have a few more superpets that I'll toss in at the bottom of the post just for the fun of it.
Stephen Rice has a, well,
unique
interview
with the members of the League of Superheroes. I recommend it for others with a warped sense of humor.
To purchase
League of Superheroes
you could go to Amazon or Barnes and Noble, but if you go directly to the publisher
The Writers' Café Press
, you can get an autographed copy!! No fooling. I think that's autographed by the author, not the superheroes.
For the first chapter excerpt, more information on
League of Superheroes
(including sequels) or the author Stephen L. Rice, stop by
http://ansric.pbwiki.com
.