The winners have just been announced for the Gayle Wilson Award of Excellence for 2008. This is an award given by the Southern Magic branch of Romance Writers of America. In the Inspirational category, the winner is . . .
Molly Noble Bull
!! Her book
Sanctuary
was voted as tops in this category by librarians, booksellers and avid readers of romance. It is exciting to see one of the books I reviewed receiving recognition for a novel that clearly presents a Christian worldview and seeks to glorify our Lord. Congratulations, Molly!
A review of this book appears in my blogs from October 2007.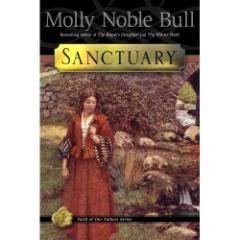 The entire list of winners of the Gayle Wilson Award of Excellence:
Historical--
My Lady's Treasure
by Catherine Kean
Short Contemporary--
Blackmailed into Bed
by Heidi Betts
Long Contemporary--
Riding the Thunder
by Deborah MacGillivray
Paranormal--
Lady of Light and Shadows
by C. L. Wilson
Inspirational-- Sanctuary by Molly Noble Bull
Contemporary Single Title--
Learning to Breathe
by Karne White
Series Romantic Suspense (tie)--
The Perfect Stranger
by Jenna Mills and
One Cool Lawman
by Diane Pershing
Young Adult--
Prom Dates from Hell
by Rosemary Clement-Moore
Novella--
Two For the Money
by Leigh Wyndfield